Accor's Global Hygiene Program - Allsafe - at Pullman Bunker Bay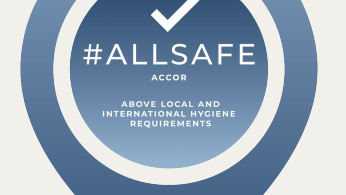 Feel Welcome
Welcoming, safeguarding and taking care of others is at the very heart of what we do and who we are at Accor. Due to the Covid-19 pandemic, we have elevated our cleaning & hygiene processes even further by launching our ALLSAFE Label which represents some of hospitality's most stringent cleaning standards. Feel welcome to speak to one of our ALLSAFE Officers whom oversee the process of the Label should you have any questions via our Assistant Managers at reception.
ALLSAFE LABEL
Accor's global cleanliness and operational standards have been developed with and vetted by Bureau Veritas, a world leader in testing, inspections and certification, which provides:
ENHANCED CLEANING AND HYGIENCE STANDARDS
Our enhanced in-room cleaning program uses TGA approved disinfectant and cleaning materials. Our newly reinforced cleaning program includes:
frequent disinfection of all high-touch areas across our resort, such as our pool area, gym and restrooms;
we have adapted contact-less payments throughout the resort with payment types now being restricted to either room charge, EFTPOS or credit card. We have increased PayWave to $200 for added efficiency;
removed from all villas are high-touch items such as note pads, pens and reading material to minimize contact points, however all are still available on request;
ENHANCED TEAM MEMBER TRAINING
Training and education of our team members is a critical aspect of maintaining health and safety. As such we have launched a new safety and hygiene training program to help everyone develop the skills and education necessary to protect themselves and you, our guests.
NEW GUEST PHYSICAL DISTANCING MEASURES
With a focus on safety during your stay, we have new standards of physical distancing measures throughout the resort and specifically in our public areas. These standards are well sign-posted and we request your support in adhering to these standards.
individual masks, sanitizers and wipes are available for purchase from reception should you require them;
ENHANCED FOOD SAFETY STANDARDS
We have always cared deeply about the safety, quality and environmental impact of our food. Across Accor we have now established new, even higher standards for our bars and restaurants which exceed government and local regulations.
our breakfast buffet has been adapted to enable it to be as contact-less as possible for your confidence. Heightened cleaning and replacement of any shared serviceware is being conducted by our team;
restrictions are still in place which includes maintaining 1.5 meters distance between tables and having 2sqm per guest. We encourage guests to book ahead for dinner prior to arrival to avoid disappointment;
We are immensely proud of how our team members, guests, owners and partners are responding to this historic challenge and we thank you for your support and want to assure you of our deepest commitment to keeping you safe as you stay with us.
Stay safe
Leighton Yates - General Manager
Pullman Bunker Bay Resort