Your Stay, Your Way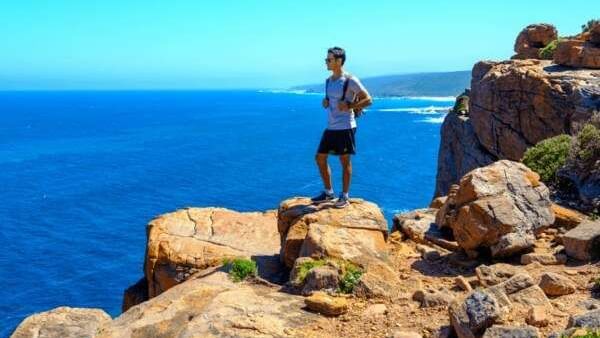 Make the most of your stay in Margaret River with our mix-and-match itinerary. We've rounded up some of our favourite places to visit in Margaret River that are just waiting for you to discover. From a farmers markets to natural spa on the beach, these are the best things you can do within an hour from Pullman Bunker Bay Resort
Self-Sufficient, But Well Looked After
From Studios to Three Bedroom Villas our Bunker Bay resort accommodation is designed for you to be taken care of but still enjoy total holiday freedom and privacy. Villa sizes range from 45m2 to 128m2 and are fitted with a kitchen equipped with cooktop, microwave and dishwasher, King bed and Smart TV, generous bathrooms, and plenty of luxury extras for a very special self-catering stay in Bunker Bay.
5 Minutes
Bunker Bay Beach - Sheltered from the wind and a 5-minute walk or less from your Pullman Bunker Bay villa, this secluded stretch of perfect white sand is a highlight of a visit to Margaret River. There's a surf break not far from here and plenty of marine life to discover under the surface if you fancy a snorkel. Best of all, with your accommodation so close by, you don't need to pack a giant all-day beach bag because you can easily head back to your villa for lunch, an ice-cold drink, or an afternoon nap.
15 Minutes
Sugarloaf Rock - A 10-minute drive from Pullman Bunker Bay will take you to one of the most photographed attractions in Margaret River region, Sugarloaf Rock. This granite island sits close to the coast and looks beautiful any time of day but is extra special at sunset. Bring your binoculars to admire the island's resident seabirds or to catch a glimpse of dolphins at play.
Cape Naturaliste Lighthouse - Head north-west for 5-minutes by car along the Cape Naturaliste Road and you'll arrive at the impressive and iconic Cape Naturaliste Lighthouse. Over a hundred years old, reaching 20-metres up into the sky, and offering some of the best views in WA, the lighthouse is a must-visit in Margaret River. A trip to the lighthouse won't take long but allow some extra time for a guided-tour and to soak in the views from the balcony at the top of the tower.
30 Minutes
Injidup Rock Pool - Known as Margaret River's 'Nature Spa' this hidden rock pool is famous for its Indian Ocean fed natural waterfall. Located at the far-north of Injidup Beach just before you arrive at Wyadup Bay you'll find the pool hidden amongst the rocks. Climb carefully over the and swap your sandals for some beach-shoes with good grip, and the natural-spa reward is well worth the exploration.
60 Minutes
Cape to Cape Track - In full, this walking track is a mighty 140km long and will take you six days to navigate your way from Cape Naturaliste to Cape Leeuwin. But that shouldn't stop you from joining the trail at some of its most scenic points to get a taste of one of Margaret River's much loved tourist attractions. Close to Pullman Bunker Bay, and combining two of our favourite attractions, you can walk from Cape Naturaliste Lighthouse to Sugarloaf Rock in an hour or less. We'd suggest starting at the lighthouse and making your way through the Leeuwin-Naturaliste National Park towards the coast.
Leeuwin-Naturaliste National Park - Stretching south from our doorstep in Bunker Bay over 120km to Cape Leeuwin, this stunning nature reserve is home to some of Western Australia's most beautiful beaches, amazing surf breaks, rare flora and fauna, and a fascinating network of caves. Adding this National Park to your Margaret River visit-list is a must. Depending on what you'd like to see, and where you'd like to go within the park, we'd suggest allowing at least half a day for exploring some of the park highlights.
Margaret River Farmers Market - An hour's drive from our resort in the heart of the town is the Margaret River Farmers Market. Open every Saturday, this award-winning market is the perfect itinerary-inclusion if you're visiting over the weekend and want to take home something special from the region, or even to shop for a delicious meal back in your villa kitchen. The market aims to connect farmers directly to consumers, so the emphasis is on seasonal, local food and flowers. From home-baked bread and local cheese to BBQ-ready prime cuts and wine, you won't be disappointed.
Image Credits