Introducing New Vie Spa Manager Holly Chappel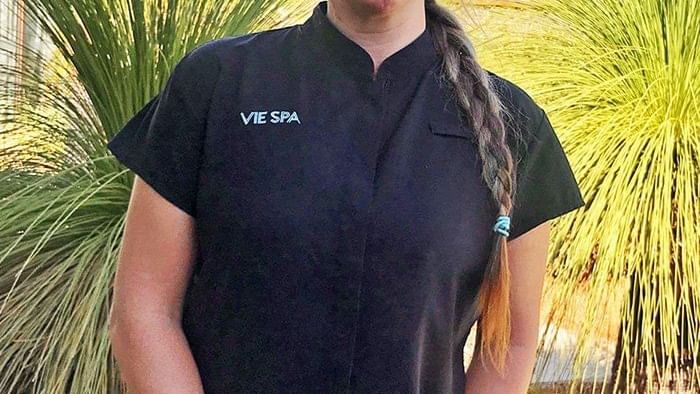 Pullman is delighted to announce the appointment of Vie Spa Bunker Bay's new spa manager, Holly Chappel.
Holly has extensive experience across all forms of spa therapy, with a passion for facial treatments and full body rituals.
Read on to learn more….
Q&A with Vie Spa Manager, Holly Chappel
Hi Holly, congratulations on your promotion to Spa Manager at Vie Spa! Can you tell us about your career history? How did you get your start in the spa and wellness industry?
Thank you! I have always loved being around the beauty industry as my sister and mother have always owned a beauty salon… and I would say I love being pampered myself!
We know you've worked at Vie Spa for some time now… when did you start? What do you love most about working at Vie Spa?
I started on 18 December 2018. In that time I have come to love walking into the spa every morning and smelling all the beautiful smells… getting my day set up to do some amazing treatments on our guests, using some amazing products.
The Margaret River Region has become a haven for people seeking health and wellbeing escapes. Why do you think that is? What does the Margaret River Region offer that makes it so unique?
I think people love this area because it is so tranquil. You get an amazing feeling of being in the forest and countryside but also an ocean getaway as well. It is a truly blissful combination.
What do you think makes Vie Spa unique when compared to other spas in the south west?
Vie Spa has a distinct feel. From the moment you arrive, guests are enveloped in a sense of calm. The scent of indigenous peppermint trees in the resort's native gardens combined with the sound of the Indian Ocean will have you feeling rejuvenated from the moment you arrive for your appointment. It is that same feeling we aim to continue once you step inside.
What is your key focus area or speciality?
Full body rituals and high performance facials are my area of expertise.
Do you have an all-time favourite Vie Spa treatment?
Heaven on Earth is simply amazing. It is one of our Vie Spa signature full body rituals where our most popular Vie Spa treatments come together in a heavenly escape.
Because it includes a Full Body Exfoliation. Full Body Massage, Organic Facial and Soothing Foot Treatment, guests really get to experience a sense of relaxation from head to toe.
What Vie Spa treatment would you recommend for someone who is a first time visitor or someone who has not visited a day spa before?
I would suggest starting with our Vie Massage - our signature full-body massage combining rhythmic movements with your choice of an organic IKOU oil blend.
Guests are given consultation forms to complete on arrival, which covers any areas they may not want their therapist to touch during their massage.
Our therapists are trained to ensure guests feel relaxed and comfortable at all stages of the spa journey - so be sure to communicate any special needs with your therapist and they will be happy to help!
What is your favourite way to relax and de-stress at home?
I have to visit the beach every day! I also have my little fluffy man 'ÓMO' – pets are great for stress relief.
As a senior professional in the Spa industry, what would be your advice to someone looking to enjoy a similar career?
I chose career that makes me want to jump out of bed every day. My advice would be to do the same.